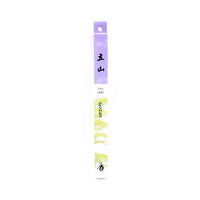 Go-Zan Five Hills Incense
Five Hills all-natural incense from Shoyeido is deep and mellow, perfect for creating an inspiring and calm atmosphere.
Shoyeido incense makes a beautiful gift for a mother, teacher or friend. The Hata family has been creating Shoyeido traditional Japanese incense for 12 generations from only the finest raw materials. Believed to be the highest quality, most natural incense available anywhere on Earth, Shoyeido treat the production of their incense like a fine art form. Masters and artisans hand select the ingredients and process them with the utmost care to create a scent that is both subtle and intoxicating.
Features:
Five Hills Gozan Incense
Contains one 35-stick bundle of Five Hills incense (8.75")
Five Hills incense recipe: sandalwood, patchouli, cloves & spices
Traditional Japanese Incense
Approx. burn time: 50 min. per stick