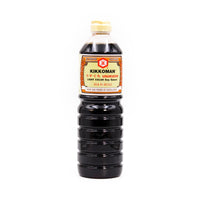 Usukuchi Shoyu 1L Kikkoman
Soy sauce from Kikkoman is a versatile, flavorful Asian condiment. It is produced with an authentic recipe: brewed from water, with wheat soybeans, and salt. It goes through an extensive aging process and, as a result, carries a luxurious, delectable taste and aroma. Kikkoman's soy sauce brings exotic Asian essence to every meal.
There are numerous ways to use this Soy Sauce. Enjoy it with noodles or Sushi, marinate meat on it for a perfect steak or drizzle it over your favorite vegetable salads. Either way, you are guaranteed to have a delightful, exotic Asian meal. 
Kikkoman is a major Japanese condiment brand. It was established in 1917 and had been growing and diversifying its range of products ever since. Kikkoman has promised to deliver high-quality products and services and wholehearted flavors with integrity by continuously improving its tradition of techniques and know-how. Kikkoman offers not only fresh and organic products but also exciting new flavor experiences by fusing foods from different cultures. Nowadays, Kikkoman is a popular and proud ambassador of Asian cuisine on the global market.
Ingredients:

 

Water, Soybeans, Wheat, Salt, Alcohol