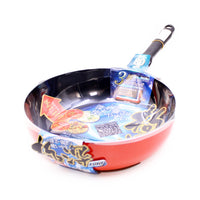 Goku Buka Blue Frying Pan 28Cm 1P
■サイズ:約全長48.5×幅29.5×高さ16.5cm
■寸法:28cm
■材質:本体/アルミニウム合金(内面 ふっ素樹脂塗膜加工、外面 焼付塗装)
    はり底/ステンレス鋼
    取っ手/フェノール樹脂(耐熱温度150度)
■原産国:中国

■特長:
●耐久性抜群で、ダイヤモンド粒子を配合した、内面3層構造の強力コーティング、「ブルーダイヤモンドコート」。
●ガス火はもちろん、IHクッキングヒーターやハロゲンヒーターなどオール熱源に対応。
●注ぎ口が両側にあるから使いやすい。
●深型なので煮物料理もできます。
■Size: about total length 48.5 x width 29.5 x height 16.5 cm
■ Dimensions: 28cm
■Materials: Main body/Aluminum alloy (inner surface: fluorine resin coating, outer surface: baking finish)
Beam bottom/stainless steel
    Handle/phenolic resin (heat-resistant temperature 150 degrees)
■Country of origin: China

■ Features:
● "Blue Diamond Coat", a strong coating with a three-layer structure on the inner surface that contains diamond particles and is extremely durable.
●Compatible with all heat sources, such as IH cooking heaters and halogen heaters, as well as gas fires.
Easy to use because the spout is on both sides.
●Because it is a deep type, you can also cook simmered dishes.