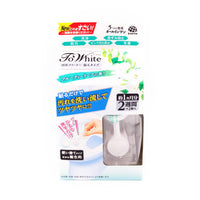 To White Solid Cleaner Fruity Leaf
●貼るだけでトイレのツヤが2週間続く。
※標準的な使用で1コにつき約2週間後使用いただけます。(2コ入りで約1カ月間)ただし、水量・水温・気温・使用方法などにより変動します。
●洗浄・黒ずみ防止・防汚・ピンク汚れ防止・芳香の5つの効果を発揮します。
●今までにない固形タイプだから実現できた便器の白さを保つ効果。
※すべての着色汚れを防ぐわけではありません。使用環境、汚れの程度により、効果が異なることがあります。また、製品を使い続けると効果を維持できます。
●有効成分を高濃度に配合した濃縮処方を実現。汚れを落として洗い流します。
●流すたび防汚力が強まり汚れをよせつけにくくします。
●着色汚れ防止処方で、黒ずみ、ピンク汚れの発生を防ぎます。
●使い捨てタイプだから保管時も衛生的です。
●小さくて白いから便器に馴染んで目立ちにくい。(貼りつけ時のサイズ:直径約27mm・高さ約8.6mm)
※本品は浄化槽及び浄化槽内のバクテリアに影響を与えません

The glossiness of the toilet lasts for two weeks just by sticking it on.
*With standard use, each product can be used after about 2 weeks. (About 1 month with 2 pieces) However, it varies depending on the amount of water, water temperature, temperature, usage method, etc.
●It has 5 effects: cleansing, anti-darkening, anti-fouling, anti-pink stain, and fragrance.
●The effect of keeping the whiteness of the toilet bowl realized because it is an unprecedented solid type.
*It does not prevent all coloring stains. The effect may vary depending on the usage environment and the degree of dirt. In addition, the effect can be maintained if you continue to use the product.
●Concentrated formula with a high concentration of active ingredients. Remove dirt and wash away.
●Each time it is washed, the antifouling power increases and makes it difficult to attract dirt.
●An anti-color stain formula prevents blackheads and pink stains from occurring.
●Since it is a disposable type, it is hygienic during storage.
●Because it is small and white, it fits well in the toilet bowl and is inconspicuous. (Size when pasted: about 27 mm in diameter and about 8.6 mm in height)
* This product does not affect the septic tank and the bacteria in the septic tank.