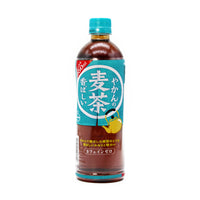 Coca Cola Yakan No Mugicha
"Yakan no Mugicha from Hajime" is genuine barley tea, brewed in a kettle for delicious taste.
This tea is made using 100% carefully selected barley, brewed using Coca-Cola's proprietary high-temperature boiling process, and complemented with barley extract. All of these efforts are taken in order to ensure the best possible flavor.
Each painstakingly prepared, carefully brewed bottle of tea not only quenches your thirst, but also conveys the warm kindness of the people who made it and helps you relax and feel at ease.
Ingredients:Barley (made in Canada), barley extract/vitamin C
CALIFORNIA PROPOSITION 65 : WARNING: Consuming this product can expose you to chemicals including lead and acrylamide which are known to the State of California to cause cancer and birth defects or other reproductive harm. For more information go to www.P65Warnings.ca.gov/food.