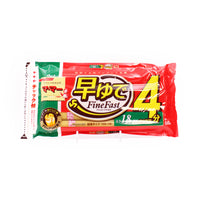 Nisshin Mama Hayayude 1.8Mm 500G
Our original FineFast manufacturing method allows 1.8mm pasta to be boiled in 4 minutes while retaining the authentic al dente texture. It is a binding type with a chuck that is easy to use and convenient for storage.
You can also cook in the microwave.
Ingredients Durum wheat semolina
Nutrients per 100g: Energy 362kcal, Protein 12g, Lipid 2g, Carbohydrate 74g, Sodium 0mg
Country of origin Japan