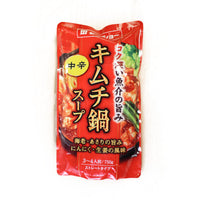 Daisho Kimuchi Nabe Soup 750G
The Daisho Hot Pot Soup Base series is very popular in Japan. They come in a variety of flavors and are convenience to use, allowing you to enjoy hot pot in just a few minutes. 
This Daisho Hot Pot Soup Base - Kimchi Flavor is rich and mellow, which is made of kimchi, soybeans, chili pepper and other spices. 
Origin: Japan