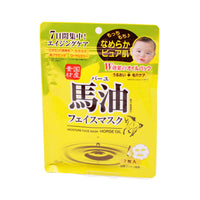 Loshi Moist Aid Face Mask Ba 7Pcs Horse Oil 2.7F
A face mask that simultaneously moisturizes and cares for pores with the oil pack effect of horse oil. It improves the texture of dry and disturbed skin and leads to smooth skin with inconspicuous pores.

how to use
Carefully wash your face in advance to remove dirt and make your skin clean.
Take out the mask sheet one by one with clean hands and apply it to the entire face by aligning it with the eyes.
Leave it for 10-15 minutes and remove the mask.


Precautions for use

●Avoid storing in direct sunlight or extremely hot or cold places.
●Do not use on areas with scars, swelling, eczema, etc.
●If it does not suit your skin, or if you experience any abnormalities such as redness, swelling, itchiness, or irritation during use, we recommend that you consult a dermatologist.
●Keep out of reach of infants.
●Should this get in your eyes, rinse immediately.

* Rossi Moist Aid horse oil face mask 7 pieces

Ingredients

Water, DPG, glycerin, horse oil, placenta extract, sodium hyaluronate, hydrolyzed collagen, sodium acetyl hyaluronate, royal jelly extract, peach leaf extract, aloe vera juice, pearl barley seed extract, urea, rice bran oil, rice bran glycosphingolipid, PCA- Na, polyglutamic acid, PEG-60 hydrogenated castor oil, magnesium ascorbyl phosphate, xanthan gum, BG, polyglyceryl-10 oleate, lecithin, phenoxyethanol, methylparaben

What is a pack sheet type?
Sheets impregnated with beauty ingredients, and packs that can be washed off or wiped off after being blended for a certain period of time.