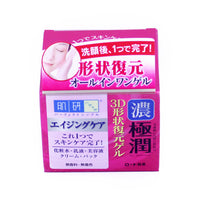 Koigokujun 3D Perfect Gel Hadalabo Rohto
Multifunctional product can be used as a lotion, emulsion, essence, cream or mask pack to supply intense moisturization and firming effects to skin.

 
Contains various types of moisturizing agent hyaluronic acid, and plant-based ingredients such as merinjo seed extract to improve skin elasticity and restore moisture in dry skin.

 
Recommended for those who are struggling with dryness around the eyes and mouth, and those with loss of firmness in skin.

 
Slightly acidic formula is gentle on skin.

 
Free of fragrances, artificial colorants, mineral oils and alcohols.
Major Ingredients:
Water, glycerin, pentylene glycol, PPG-10 methyl glucose, (PEG-240 / decyltetradeces-20 / HDI) copolymer, hyaluronic acid crosspolymer Na (3D hyaluronic acid), acetyl hyaluronic acid Na (super hyaluronic acid) Hydrolysed hyaluronic acid (nano-ized hyaluronic acid), hyaluronic acid Na, EDTA-2Na, polysorbate 60, phenoxyethanol, resveratrol, gnetum seed extract (merinjo extract), dextrin, behenes-30, citric acid Na, citric acid Acrylates, Copolymer Ammonium, Methyl paraben