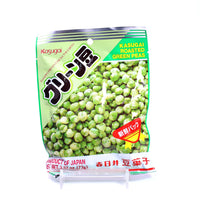 Roasted Grn Peas 73G Kasugai
Roasted Green Peas is a pack of crunchy, flavorful, Green pea snack from Kasugai. They are made with the finest organic, locally grown rice and aromatic, crunchy peas and seasoned with craftily mixed spices giving them well-balanced salty flavors. Each pack carries rich, fresh, and nutty flavors and a delightful crunchy texture.
?
These delightful roasted green peas from Kasugai make a wholesome snack pack that is perfect for every occasion. Perfect for a light snack, big parties, movie nights, and football matches. Although perfect on their own, feel free to pair them with beer.
?
Ingredients: Green Peas, Corn Starch, Vegetable Oil, Sugar,
Wheat Flour, Salt, Flavor Enhancers, Leavening, Coloring, Dextrin