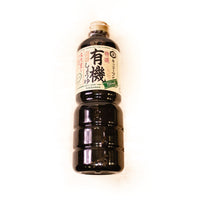 Kkm Organic Soy Sauce Jpn 750ml
Organically brewed to maximise its natural umami flavour.
Made with only the most carefully harvested organic soybeans and wheat, this Kikkoman soy sauce offers a pure, nourishing splash of Japan's most iconic umami seasoning. Brewed with marudaizu whole soybeans to produce its rich colour and well-rounded, mature taste, this special blend of soy sauce helps both Asian and Western recipes swell with fragrant, savoury flavour, whether its simply added as a condiment or used as a base to your next sweet or salty marinade. Preserved with salt to prevent the use of artficial additives or preservatives, experience the incredible potential of this JAS-certified soy sauce, as naturally intended.
Water, soy bean, wheat, salt