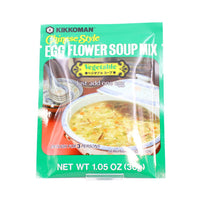 Egg Flower Soup Mix Veg Kikk
Kikkoman Chinese Style Mix Vegetable Flavor Egg Flower Soup Mix in 1.05oz (30g) sachet. Just add one egg. Gradually add one well beaten egg to boiling soup, stirring it gently in one direction. One packet is enough for 3 persons. Vegetarian Certified. Product of Japan.
Ingredients
potato starch, salt, dextrin, lactose (milk), dehydrated carrot, monosodium glutamate, dehydrated black forest mushroom, sesame oil, hydrolyzed vegetable protein (soybeans), dehydrated green onion, dehydrated soy sauce (soybeans, wheat, salt, dextrin), yeast extract, ginger powder (ginger corn) sugar, hydrolyzed fish protein (sardine, bonito, tuna), parm oil, seafood extract (squid, bonito, mackerel, kelp), potassium citrate, onion powder (onion, wheat flour), garlic powder, non-fat dried milk, spices, caramel colour, matodeztrin, disodium inosinate, black forest mushroom extract, disodium guanylate, modyfied corn starch, sodium fumarate, disodium succinate.