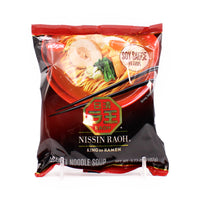 Nissin Ra-Oh Umami Soy Sauce Flavor 107G
Noodles:
Non-fried medium-thick straight noodles made by the three-layer noodle manufacturing method with a smooth, chewy, and chewy texture.
soup:
Salty soy sauce soup that is popular in the United States as the "origin of ramen". Flavored vegetable wind
The taste is the decisive factor, and it is characterized by a light yet elegant taste.
麺 :
つるみ、コシ、もっちりとした食感の、三層麺製法によるノンフライ中太ストレート麺。
スープ:
"ラーメンの元祖"としてアメリカでも親しまれているしょうゆスープ。香味野菜の風
味が決め手の、あっさりとしながらもうまみのある上品な味わいが特徴です。