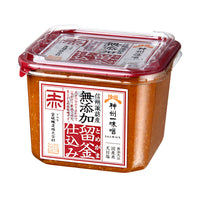 Tomegamashikomi Aka Shinsyu-ichi
・大豆の旨みを釜の中で一晩かけて熟成させた、留釜仕込みの赤味噌です。そのため、通常の味噌よりもまろやかでコクの深い味わいが楽しめます。
・味噌作りに最適な「国産米」を100%使用しました。
・神州一味噌発祥の蔵である、信州諏訪の丸高蔵で仕込みました。
・添加物は一切使用していない、無添加味噌です。
・加熱殺菌処理も加えていないので、酵母や酵素が生きている生味噌です。
・だしは加えておらず、素材の持ち味を活かすお料理自慢の基本味噌です。

・A red miso prepared in a still pot, where the umami of soybeans is aged overnight in a pot. Therefore, you can enjoy a mellower and richer taste than regular miso.
・We used 100% domestically produced rice, which is ideal for making miso.
・Produced at Marutakagura in Suwa, Shinshu, the birthplace of Shinshu miso.
・Additive-free miso that does not use any additives.
・Since it is not heat sterilized, it is raw miso with yeast and enzymes.
・With no dashi added, this is a basic miso that is proud of our cuisine that brings out the flavor of the ingredients.