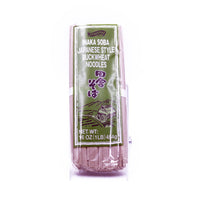 蕎麦はそば粉と小麦粉で作る日本人の味!
ホットでもコールドでもお召し上がりいただけます
ざるそばは、つゆで冷やして食べる夏の人気メニューです 
各パッケージは 4 ~ 5 人分です
ネット重量。 16オンス。
Soba noodles are made of buckwheat and wheat flour - a Japanese favorite!
They can be served either hot or cold
Zaru soba is a summer favorite served cold with tsuyu (soup base) - see soba noodle & tsuyu set
Each package serves four-five people
Net Wt. 16 Oz.