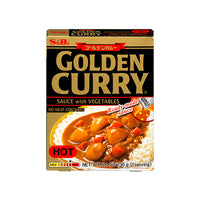 Golden Veg Curry Hot 8.1Oz
S&B Golden Curry Sauce With Vegetables Hot.
Product of Japan,
INGREDIENTS: Vegetables (Potato, Onion, Carrot), Edible Oils (Palm Oil, Canola Oil, Soybean Oil), Water, Wheat Flour, Curry Powder, Spices, Sugar, Salt, Monosodium Glutamate, Caramel Color, Worcestershire Sauce, hydrolyzed Vegetable Protein (Soybean), Malic Acid, Disodium Inosinate, Disodium Guanylate, Calcium Lactate.
Contains: Soybean, Wheat.
NUTRITION FACTS:
Package Size 230g (8.1 oz),
Serving Size 1 pkg (230g), Servings Per Container 1
Calories 250, Calories from Fat 120
Amount Per Serving % Daily Value*
Total Fat 14g 21%,
Saturated Fat 8g 40%,
Trans Fat 0g,
Cholesterol 0mg 0%,
Sodium 1330mg 56%,
Total Carbohydrate 29g 10%,
Dietary Fiber 3g 12%,
Sugars 6g,
Protein 4g
Vitamin A 2%, Vitamin C 8%, Calcium 4%, Iron 6%
*Percent Daily Values are based on a 2,000 calorie diet. Your daily values may be higher or lower depending on your calorie needs.