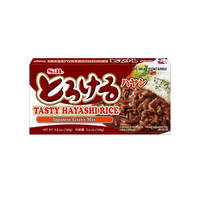 Hayashi Sauce Tasty Torokeru
"Hayashi" is the original Japanese dish with fried sliced beef, onion stewed with red wine and demi-glace sauce. This is a block form gravy mix made of wheat flours, spices, seasonings, oil and vegetable powder. Simply stir-fry meat and onions, add water and this mix in, stir as they dissolve and simmer. You can cook a tasty Hayashi very easily.
It goes perfectly well with rice, bread or mashed potatoes. You can also use as a dipping sauce for steamed vegetables, a sauce for gratin or ingredient for potpie. Tasty Hayashi Rice (Gravy Mix) contains no meat derived ingredients.
圧力鍋でとろとろになるまで煮込んだ20種類の国産野菜の旨みがたっぷりとけ込んだ味わいのハヤシです。
Ingredients
Vegetable oils (Palm oil, Rapeseed oil), Wheat flour, Sugar, Corn starch, Salt, Monosodium glutamate, Dextrin, Caramel color, Tomato powder, Mushroom bouillon, Vegetable bouillon powder (Dextrin, Salt, Sugar, Onion extract, Carrot extract, Sauteed onion, Rice oil, Celery extract, Yeast extract, Spices), Banana, Chinese cabbage extract powder, Soy sauce powder(Soy sauce[Soybean, Wheat, Salt], Dextrin, Salt), Onion powder, Spices, Disodium guanylate, Disodium inosinate, Paprika color, Malic acid, Artificial and natural flavor, Spice extract