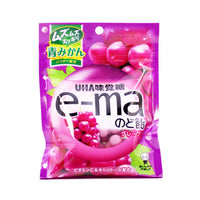 つるつるとしたなめ心地と、カリッとした食感が特徴、「なめて噛む」の2つの食感が楽しめるのど飴です。
味はグレープ味。口に入れた瞬間から爽やかなフルーツのおいしさを楽しめます。
ビタミンC&キシリトール配合。
チャック付きの袋タイプ。
It is a throat lozenge that is characterized by its smooth licking texture and crispy texture, and you can enjoy the two textures of "licking and chewing".
The taste is grape flavor. You can enjoy the refreshing taste of fruit from the moment you put it in your mouth.
Contains Vitamin C & Xylitol.
Bag type with zipper.
‎砂糖、ラフィノース、水飴、澱粉、巨峰果汁、ブドウ果皮エキスパウダー、甘味料(キシリトール)、ビタミンC、酸味料、香料、増粘剤(アラビアガム)、ショ糖エステル、着色料(クチナシ)、乳化剤、酸化防止剤(酵素処理ルチン)、(原材料の一部に大豆を含む)
Ingredients: Sugar, raffinose, starch syrup, starch, giant peak juice, grape peel extract powder, sweetener (xylitol), vitamin C, acidulant, fragrance, thickener (Arabic gum), sucrose ester, colorant (cutinashi), emulsifier , Antioxidant (enzyme-treated rutin), (some of the raw materials include soybeans)