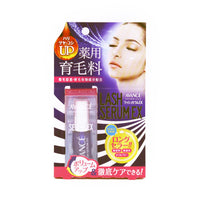 Serush Serum Ex 7Ml Avance
Avance Lash Serum EX encourages the growth of eyelashes and leads to longer eyelashes with more volume.
This Japanese eyelash serum strengthens the eyelashes from the root and protects them after long-term usage of curler and mascara.
It contains Asian ginseng extract, Hyaluronic acid, and Silk extract for hydrating the eyelashes.
Free of fragrance, colouring, and oil.
ブランド:アヴァンセ/AVANCE

内容量:7ml

毛髪のボリュームと潤いを呼び起こし、長く濃く艶やかに。
抜毛を予防し、毛根の血行を促進して細胞を活性化させるまつ毛用薬用育毛料です。
ニンジンエキス・ヒアルロン酸・シルクエキスなどの保湿成分が
有効成分の効果を高め、毛髪にうるおいを与えます。
毛根を優しくとらえるマスカラブラシタイプ。