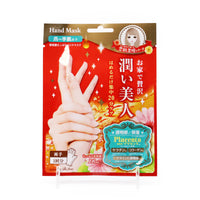 Luck Trendy Placenta Moisture 1P
All ingredients Water, cetyl ethylhexanoate, glycerin, BG, cetearyl alcohol, glyceryl stearate, caprylic/capric triglyceryl, dimethicone, PEG-100 stearate, lotus placenta extract, hydrolyzed keratin, hydrolyzed Collagen, tocopherol acetate, sodium hyaluronate, cacao butter, avocado oil, macadamia seed oil, vegetable oil, wolfberry fruit extract, soybean seed extract, assembly extract, kelp extract, aloe vera leaf extract, acai palm fruit extract, xanthan gum, EDTA-2Na, 1,2-hexanediol, ceramide 3, ethylhexylglycerin, (C13,14) isoparaffin, polyacrylamide, laureth-7, phenoxyethanol, methylparaben, propylparaben, fragrance
How to use STEP1, separate the hand mask along the center cut line.
STEP2, put a hand mask on your clean hands.
* The mask has a double structure. Put your hand inside the non-woven fabric soaked with beauty ingredients.
STEP3, leave for about 20 minutes. Please adjust the usage time according to the dryness of your skin.
Step 4: Rub the liquid remaining on your skin into your hands.
* After removing the mask, it is not necessary to wash it off.
Precautions for use There are individual differences in effects and efficacy. If it does not fit, discontinue use and consult a doctor.