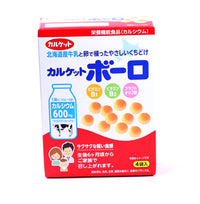 大正9年発売のロングセラーブランドのボーロです。
北海道牛乳と卵で練ったやさしい味わいで、生後6ヶ月頃からご家族で召し上がれるカルシウム入りボーロです。
カルシウムに加え、ビタミンB1、B2、フラクトオリゴ糖を配合し、おいしく栄養補給ができます。
It is a long-selling brand bolo released in 1918.
A bolo with calcium that can be enjoyed by the family from about 6 months old with a gentle taste kneaded with Hokkaido milk and eggs.
In addition to calcium, vitamins B1, B2 and fructooligosaccharides are blended for a delicious nutritional supplement.
でん粉、砂糖、鶏卵、ぶどう糖、脱脂粉乳、ミルクカルシウム、フラクトオリゴ糖、牛乳、加糖練乳、麦芽糖、寒梅粉、膨張剤、乳化剤、香料、ビタミンB1、ビタミンB2
Ingredients:
Dust, sugar, chicken eggs, glucose, skim milk powder, milk calcium, fructo-oligosaccharide, milk, sweetened condensed milk, maltose, cold plum flour, swelling agent, emulsifier, fragrance, vitamin B1, vitamin B2