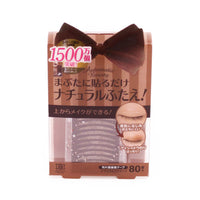 Mezical Ab Natural Eye Tape
Secret lid without sticking eyelids!
Non-adhesive type double-layer liquid.
Natural double with a soft film
Even if you make a mistake, gently wipe it off to fix it! You can start over again.
When applied and dried, a thin film is formed on the eyelids to create a natural folding double layer.
Latex (rubber) type that becomes transparent when it dries
You can enjoy eye makeup from the top.