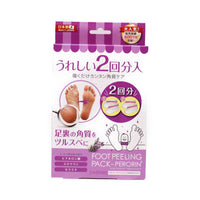 Perorin Lavender Foot Peeling Pack Sosu
【how to use】
(1) Cut the mouth of the bag with scissors. Be careful not to spill the liquid inside.
(2) Put your feet in the bag and secure the opening of the bag with the attached sticker.
(3) Soak your feet in the liquid for 1 to 1.5 hours.
(4) After soaking, use soap and wash your feet completely with cold or lukewarm water so that no liquid remains.
(5) After 5 to 7 days of use, the keratin will begin to peel off. * There are individual differences in how the keratin peels off.
(6) After about 2 weeks, the old keratin on the soles will be removed and smooth bare feet will appear. Moisturize with your cream, etc.

【component】
Water, ethanol, lactic acid, BG, PEG-60 hydrogenated castor oil, sodium hyaluronate, hydrogenated lecithin, ceramide 3, squalane, soybean sterol, burdock root extract, lemon fruit extract, ivy leaf/stem extract, watercress leaf / stem extract, sage leaf extract, soapwort leaf extract, fragrance (lavender extract)

[Standard overview]
Correspondence size: 27cm or less
【Notes】
* There are individual differences in how the keratin peels off.
*Do not forcibly peel off dead skin cells that have started to peel off.
・Do not use if you have an abnormality such as a wound, redness, swelling, itchiness, or other inflammation on your skin. If you continue to use it as it is, the symptoms may worsen.
・Do not use if you have symptoms such as allergies or sensitive skin.
・If you have nail polish on your toenails, remove it before using. It may damage your nails or cause discoloration.
・When soaking your feet in the liquid, please use it for 1 hour to 1.5 hours as a guide.
・After use, do not remove dead skin by yourself. Doing so may damage your skin.
・After use, be careful not to expose your skin to direct sunlight. It may cause rashes or stains.
・Avoid strenuous exercise that puts a strain on your feet immediately after use.
・Please use in a well-ventilated place such as a bathroom.
・Please use this product immediately after opening.
・After using once, wait for about 3 weeks before using. Please note that continuous use may cause skin problems.
・Do not store in extremely hot or cold places, or in direct sunlight.
・Keep out of reach of infants.