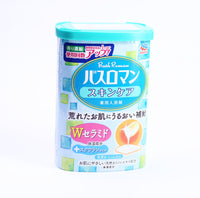 Earth Bathroman Yakusen Bath Salt
●Wセラミド配合
・セラミドII(保湿成分)・・・肌本来の成分であるセラミドIIの働きを補いうるおいを保ちます。
・セラミドIII(保湿成分)・・・お肌をやさしく包み込み活き活きとした肌に整えます。
●美容液成分(保湿成分)スクワランオイル配合
●有効成分が温浴効果を高め血行を促進し、疲労回復・冷え症・荒れ性に効果的です。
●お肌にやさしい天然カミツレエキス配合(保湿成分)
●さら湯のピリピリ感をやわらげる塩素除去成分配合
●アレルギーテスト済み(全ての方にアレルギーが起きないわけではありません。)
●赤ちゃん(生後3ヵ月以上)と一緒に入浴する時も使えます。
●たっぷり約30回分 ※20g使用の時
●医薬部外品。
【お湯色】
ウォームホワイトのお湯(にごり)
[有効成分]
乾燥硫酸Na、炭酸水素Na
[その他の成分]
酸化Ti、無水ケイ酸、グリシン、カモミラエキス-1(カミツレエキス)、スクワラン、ステアロイルジヒドロスフィンゴシン(セラミドII)、ステアロイルフィトスフィンゴシン(セラミドIII)、グリチルリチン酸2K、ポリアクリル酸Na、ポリアクリル酸、エタノール、乾燥硫酸Na、ステアリン酸PEG、POE(300)POP(55)、ベントナイト、石けん用素地、香料
●W ceramide combination
・Ceramide II (moisturizing ingredient): Maintains moisture by supplementing the function of ceramide II, a natural ingredient in the skin.
・Ceramide III (moisturizing ingredient): Gently wraps your skin and makes it look vibrant.
●Contains beauty serum ingredient (moisturizing ingredient) squalane oil
●The active ingredients enhance the hot bath effect and promote blood circulation, which is effective for recovering from fatigue, sensitivity to cold, and rough skin.
Contains natural chamomile extract that is gentle on the skin (moisturizing ingredient)
Contains chlorine removal ingredients to relieve the tingling sensation of hot water
●Allergy tested (not all people will not have allergies)
●Can also be used when bathing with a baby (over 3 months old).
●About 30 servings *When using 20g
●Quasi-drugs.

[Active ingredient]
Dry sodium sulfate, sodium hydrogen carbonate
[Other ingredients]
Ti oxide, silicic anhydride, glycine, chamomile extract-1 (chamomile extract), squalane, stearoyldihydrosphingosine (ceramide II), stearoylphytosphingosine (ceramide III), glycyrrhizic acid 2K, polyacrylic acid Na, polyacrylic acid, ethanol , dry sodium sulfate, PEG stearate, POE(300)POP(55), bentonite, soap base, fragrance
[Hot water color]
Warm white hot water (cloudy)