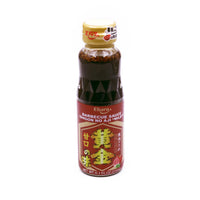 Ohgon No Aji Mild 210G Ebara
"Ohgon No Aji" is a rich and rich yakiniku sauce that is a blend of carefully selected apples, peaches, and plums in a secret golden ratio. The power of the fruit makes the meat much tastier. Enjoy the exquisite harmony of meat and "Ohgon No Aji".
「黄金の味」は、厳選されたりんご、もも、うめなどを秘伝の黄金比率でブレンドした、果実たっぷりでコクのある焼肉のたれです。果実の力でお肉が、ぐっとおいしくなる。お肉と「黄金の味」の絶妙なハーモニーをお楽しみください。
?
Ingredients:Fruit puree (apple , thigh, ume), soy sauce, sugar, reduced water candy, amino acid solution, honey, apple cider vinegar, salt, white sesame, onion extract, sesame oil, protein hydrolyzate, garlic, spice / caramel pigment , (Including some wheat, sesame, soybeans, thighs, and apples)