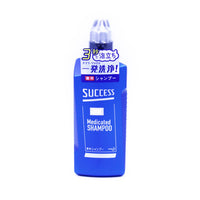 Bubbles in 3 seconds and cleanses in one shot. The micro-degradable bubble removes sebum, wax, and even odor from pores.
Quasi-drugs.
Prevents dandruff and itching. Prevents hair and scalp sweat odor (active ingredient: pyroctone olamine).
Use the nozzle directly on the scalp for a direct shampooing (Jika-shan) style.
The smooth liquid shampoo penetrates the scalp and foams up from the scalp.
By cleaning the pores, it helps hair growth tonic and hair growth tonic to penetrate.
Non-silicone formula.
Contains natural eucalyptus extract (moisturizer).
Aquacitrus Fragrance

Pyroctone Olamine*, water, polyoxyethylene lauryl ether ammonium sulfate (1E.O.) solution, ethanol, amide-propyl laurate betaine solution, POE(16) lauryl ether, lauryl hydroxysulfobetaine solution, alkyl carbohydrate. Xymethyl hydroxyethyl imidazolinium betaine, glyceryl ethyl hexyl ether, polyoxyethylene lauryl ether (6E.O.), menthol, eucalyptus extract, trimethylammonium chloride, hydroxypropyl hydroxyethyl cellulose, citric anhydride, BG, fragrance. Blue 1
*No indication of "active ingredients" means "other ingredients