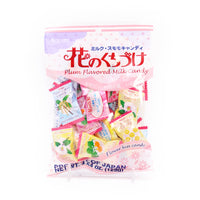 Kasugai Hananokuchizuke 4338
Kasugai Hana no Kuchizuke is a classic Japanese candy with unique milk and plum flavor. It is individually wrapped with an image of birth flower (for all 366 days including the leap year day) and its flower meaning (in Japanese). It is why the name of the candy literally means "Flower's kiss" in Japanese. It is a very popular candy. Enjoy!
Ingredients: Sugar, Corn Syrup (Corn Starch, Water), Condensed Milk, Palm Oil, Acidulant (Tartaric Acid, Citric Acid), Artificial Flavor, Emulsifier (Glycerin Fatty Acid Ester, Soybean Lecithin), Coloring (Red Cabbage, Beta-carotene).