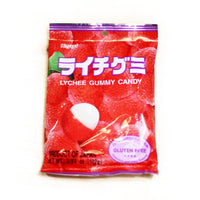 Gummy Lychee 4.41Oz Kasugai
Candy, Gummy, Lychee 3.59 oz (102 g) Lychee is a fruit originally grown in Southern China and said to have been favored by Yang Guifei. Kasugai Lychee Gummy Candy are gummy candy which has the flavor and texture of the original fruit. Delicious and juicy.
?Sugar, Corn Syrup (Corn Starch, Water), Concentrated Apple, Litchi Juice, Gelatin, Obelate Powder, D-Sorbitol, Acidulant, Citric Acid, Milk Calcium, Pectin, Artificial Litchi Flavor, Palm Oil, Emulsifier (Glycerin Fatty Acid Ester, Soybean Lecithin).