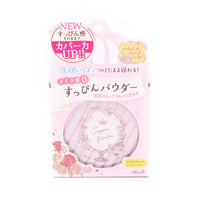 Suppin Face Powder Pastel Rose 26G Club Cosmetic
Some girls don't like make up look and even "no make up" make up looks too "make up look". Answering this kind of demand, Club brings you gentle bare look powder that protects your skin from external stress that has bad influence on the skin such as cigarette smoke and dust.
Contains moisturizing ingredients (hyaluronic acid · collagen) and filter ingredients (Algae Extract) that will protect your skin.
No need to wash your face!
Since it uses skin care prescription, it doesn't need to be washed!
Components:
Talc, stearic acid Mg, polyglyceryl-2 isostearate, cetyl ethylhexanoate, squalane, methyl methacrylate crosspolymer, methylparaben, tocopherols, perfume, water, BG, silica, Arukurokisa, ascorbyl phosphate Mg, brown algae extract, aloe vera leaf extract , coconut oil, tea leaf extract, hyaluronic acid Na, soluble collagen, mica, titanium oxide, iron oxide