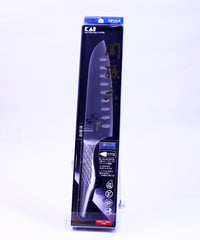 Kitchen Knife With Dimples 165Mm
Manufacturer Kaijirushi
Model AB-5157
Material/composition Blade body: high carbon stainless steel, handle: 18-8 stainless steel
Body size: total length 298 x blade width 46 x handle height 26 mm / blade length 165 mm, plate thickness 2 mm / weight 134 g
Country of Origin Japan
Description of item

Seamless all-stainless steel type.
KAI's unique design allows the blade to pass through the inside of the handle, achieving a good balance between the handle and the blade and outstanding durability.
It is also compatible with dishwashers, so you can always use it hygienically.
Thanks to our unique grinding process that reduces the cutting resistance of the food, it cuts well into the food and has a sharp edge.

[Newly designed handle] The streamlined handle design provides a good grip for your fingers.