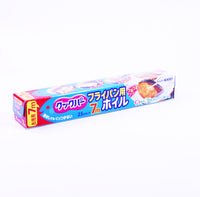 Kukupa Frypan Hoil Asahi Kasei
[Product details of foil for cooker frying pan]
●Aluminum foil coated with silicone resin on one side for cooking.
●It is more convenient to bake a lot at once in a large frying pan, or to cover the frying pan up to the edge to prevent it from getting dirty.
●Even without oil, the food does not stick and can be peeled off easily.
●Since it does not allow oil or juice to pass through, it is easy to clean up after cooking utensils.
●As it is resistant to heat, it can be used for frying pans and toaster ovens.
●Since the surface to be used is embossed, you can easily see the front and back.

【how to use】
・ Close the lid tightly and cut the sheet by pulling it toward you.
【raw materials】
aluminum foil, silicone resin

[Standard overview]
Size: Width 30cm*Length 3m

【Notes】
・Do not touch the foil directly during or immediately after cooking. High temperature may cause burns.
・Do not use the foil directly on the IH cooking heater. It may melt or ignite when heated.
・The foil may melt if brought close to a flame, heat source, or IH cooking heater. When laying it on the frying pan, make sure that it does not protrude outside. Please use cooking utensils etc. on top of it. Avoid direct contact of the foil with a heat source such as a toaster oven.
・Do not use for packaging foods with strong acid or salt content, such as pickled plums, miso, and soy sauce. The foil may be discolored or eroded to form holes.
・The foil may discolor if stored in a humid or steamy place.
・Do not use in the microwave.
・Baking only the foil in a frying pan or pot may reduce the effectiveness of the foil to prevent food from sticking.