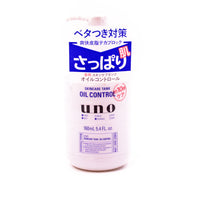 Uno Skincare Tank Oil Contro
Refreshing, non-sticky moisturizing lotion that blocks sebum and shine.
This one product targets all the skin issues that men face.
The thick lotion blends easily in to the skin, prevents acne and rough skin.
Contents: 160ml
● Materials / Ingredients: dipotassium glycyrrhizinate (*), sodium L-glutamate, L-arginine hydrochloride, DL-pyrrolidone sodium carboxylate solution, concentrated glycerin, purified water, ethanol (96 to 96.5 degrees), dipropylene glycol, poly oxyethylene (14) polyoxypropylene (7) dimethyl ether, silicic anhydride, 1-menthol, carboxyvinyl polymer, triethanolamine, polyoxyethylene hydrogenated castor oil, disodium edetate, perfume
(*) active ingredient
others are non-active ingredients.
● Size: 125 x 58 x 58
● Weight (product only) [g]: 193
● Produced in: Vietnam
● Manufacturer: Shiseido
Avoid storing in hot places or in direct sunlight.