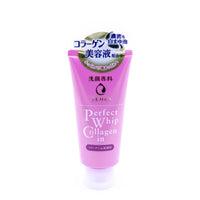 Shiseido Senka Perfect Whip Collagen In
New addition to Shiseido's Perfect Whip line, now with collagen and double hyaluronic acid.

Dense, rich and creamy lather goes deep into pores and removes dirt effectively.

Contains Collagen and Double Hyaluronic Acid so your skin is left soft and smooth.

Enriched with collagen and natural silk essence. Leaves your skin feeling plump, firm, and moisturized.

Cleanser foams up easily for easy and even distribution. Hyaluronic acid locks in moisture.