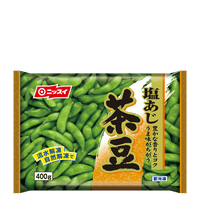 Chamame Shioaji 400G Nissui
Freshly picked tea beans were boiled and frozen.
Even the inside of the beans has a moderate amount of salt hydrangea.
Comes in an aluminum pack that retains its flavor.
As it is, it can be used as a snack. Also as a cooking ingredient such as salad.
Please enjoy by thawing naturally, thawing in running water, or thawing in a microwave oven.
茶豆特有の香りとコクが際立つ、
塩あじつきの茶豆
実入りがよいとれたての茶豆をゆでて冷凍しました。
豆の中まで、ほどよく塩あじがついています。
風味を保つアルミパック入り。
そのままでおつまみに。サラダなど、お料理の素材としても。
自然解凍・流水解凍・電子レンジで解凍してお召しあがりください。