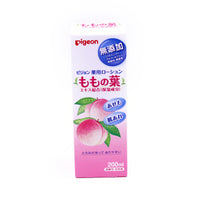 Pigeon Body Lotion Momonoha 200Ml Medical
A measure against rash / rough skin.

 
It is a medicated lotion of moisturizing ingredient thigh leaf extract formulation.

 
As a moisturizing ingredient, peach leaf extract, aloe extract is compounded.

 
Weakly acidic, hypoallergenic.

 
Even for sensitive skin, from season to baby to adult, you can use all year round.

 
It is easy to take in hands, easy to coat.

 
Feel a little sweet and smooth skin.

 
Alcohol, parabens, fragrance, coloring agent are not added.
Major Ingredients:
Active Ingredients: Glycyrrhizinate 2K, Allantoin Other ingredients: Peach leaf extract, aloe extract-2 (derived from aloe vera), glycerin ethylhexyl ether, silicic anhydride, xanthan gum, carboxyvinyl polymer, phenoxyethanol, potassium hydroxide, BG, purified water