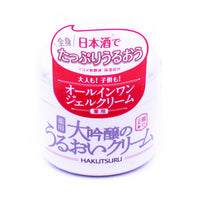 Tsuru No Tamatebako Daiginjo Moisturizing Cream
The Hakutsuru Daiginjo Cream is a Japanese all-in-one skincare cream featuring the premium version of Japanese Sake "Hakutsuru Daiginjo" which is made only with the best parts of rice.
Hakutsuru Daiginjo cream also contains Job's tears, hyaluronic acid and rice ceramide to boost hydration, prevent skin problems and keep a healthy skin.
4 roles in one; toner, serum, emulsion, and cream.

Free of paraben, colorings and fragrance.