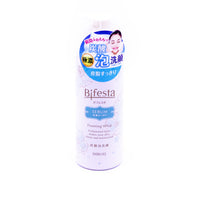 Bifesta Cleansing Foam Sebum 6.3Oz(180G) Mandom
Containing green tea extract that dissolves sebum and tones up your skin, it washes your face and makes your skin feel fresh. Oil Clear has the highest content in the Series of amino acid cleanser and removes dirt with great power. Containing ethoxydiglycol (sebum dissolver), green tea extract (skin toner), adsorptive hyaluronic acid (moisturizer), amino acid type detergent (Cocoyl glutamate Na) for fresh and smooth skin.
Imgredients:Containing ethoxydiglycol,Containing green tea extract,adsorptive hyaluronic acid,amino acid type detergent.