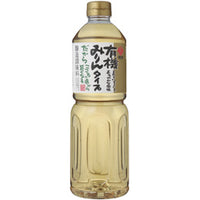 Yuki Mirin Type 500 Morita
This is an organic mirin type that uses organic rice and organic sugar as raw materials and makes use of the brewing technology of sake "Nenohi".
It gives the food a beautiful shine, luster, elegant sweetness, richness, and umami, and enhances the flavor of the ingredients.

*This product is not included in alcoholic beverages under the Liquor Tax Act.

Morita organic mirin type 500ml
¥495 (tax included)

1
Individual

add to cart

Add to Favourites
Click here for shipping information
Nutritional information display per 1 tablespoon (15ml)
Energy: 28kcal, protein: 0.1g, fat: 0g, carbohydrates: 4.9g, salt equivalent: 0.2g
This display value is a guideline.

name
Organic mirin type

Raw material name
Organic brewed seasoning (organic rice, organic rice koji, salt) (domestic production), organic sugar, salt/alcohol

alcohol content
8.0% or more and less than 9.0%

salt
1.5% or more

Internal capacity
500ml

Preservation method
Store away from direct sunlight, high temperature and humidity

Precautions for use
After opening, close the cap and be sure to store it upright in the refrigerator (below 10 ° C) and use it as soon as possible.

The color may darken during storage, but there is no problem with quality.

It is a salted product.
Please pay attention to the amount of salt.