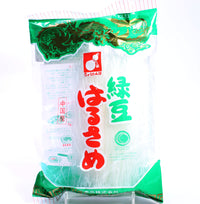 Morii's gourd-branded mung bean vermicelli manufactured in Shandong Province, China, the home of mung bean vermicelli.
Using 100% mung bean starch, it has a thin and smooth texture.
Morii's gourd mung bean vermicelli is provided with safe and secure products because the Japanese staff of Morii are stationed locally and are thoroughly managed.
You can use it for various dishes such as stir-fried foods and simmered foods.