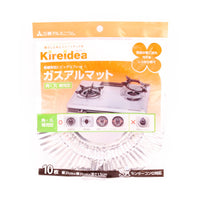 Mitsubishi Alminium Gas Range Mat Round-Edge Squ
[Product information]
Compatible with Si sensor stove!
●Prevents oil stains and boiling over stains on the saucer.
-By improving the shape of the saucer part, it fits various saucers and can be used for more models.
●Can be used for both corners and rounds.

■ Product size (approx.): Vertical 21 x Horizontal 21 x Depth 1.5cm
■Material: Aluminum foil

【remarks】
■ Production area / Japan

*Cannot be used on gas stoves without a saucer (flat top plate).
Also, depending on the shape of the saucer, even if it is a Si sensor stove, you may not be used to using it.