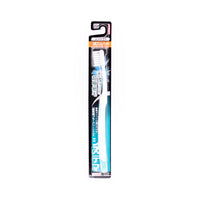 システマハブラシコンパクト3列スリム1本やわらかめ歯ブラシ
●進化した薄型ヘッドで、これまで届きにくかったお口の奥の歯周ポケットまで届きやすい歯周病ケアのためのハブラシです。
●超極細毛の毛先だから、普通の毛では届かない歯周ポケットの奥深くまで届き、汚れを歯周病プラーク(歯周病菌を含む菌の集合体)ごとかき出します。
●ヘッドの大きさはコンパクトサイズです、ヘッド幅は口腔内の操作性に優れたスリムな3列タイプです。
●毛のかたさはやわらかめです。※ハンドル色の指定は不可になります。
Systema toothbrush compact 3 rows slim 1 soft toothbrush
A toothbrush for periodontal disease care with an evolved thin head that makes it easy to reach the periodontal pockets in the back of the mouth, which were previously difficult to reach.
The ultra-fine bristles reach deep into the periodontal pockets, which normal bristles cannot reach, and scrape out the dirt together with periodontal disease plaque (a collection of bacteria including periodontal disease bacteria).
●The size of the head is compact, and the width of the head is a slim 3-row type with excellent operability in the oral cavity.
●Hair is soft. *It is not possible to specify the handle color.