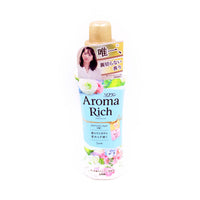 ■選んだときの香りの特徴が、注ぐときから脱ぐときまで、ずっと変わらずに続く"咲きたてアロマ製法"。
■植物生まれの柔軟成分がセンイの1本4本まで柔らかく仕上げ、静電気も防ぎます。
■防臭・抗菌※効果で、衣類につく汗やタバコなどのイヤなニオイを抑えます。
 ※全ての菌に対して抗菌効果を有するわけではありません
■赤ちゃんの衣類もやわらかに仕上げます。
■部屋干し中もいい香り。
■"Freshly blooming aroma manufacturing method" that the characteristics of the scent when you choose it continue unchanged from the time you pour it to the time you take it off.
■Flexible ingredients derived from plants soften up to 1 and 4 fibers and prevent static electricity.
■By deodorant, antibacterial ※ effect, we suppress unpleasant smells such as sweat or cigarette which clothing has.
*It does not have an antibacterial effect against all bacteria
■We finish clothing of baby softly.
■It smells good even while drying in the room.