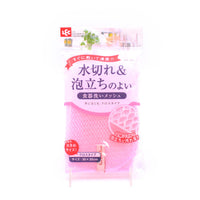 ●手になじむふきんタイプの食器洗いです。
●スポンジタイプではできない、様々な洗い方ができます。
●広げて使う・・・大きなお皿も包み込むように素早く簡単に洗えます。
●たたんで使う・・・スポンジのように力を入れてこすり洗いができます。
●巻いて使う・・・縦長に巻くことでコップなど深さのある食器を洗うことができます。
●泡立ちが良いソフトな立体パイル編みです。
●メッシュタイプで水切れがよく、乾きも早いのでいつも清潔です。
●Dishwashing dish towel that fits comfortably in your hand.
●Can be washed in a variety of ways that cannot be done with the sponge type.
●Spread and use: Quick and easy to wash as if wrapping large dishes.
●Fold and use: You can scrub and wash like a sponge.
●Roll it up...By rolling it vertically, you can wash deep dishes such as cups.
A soft three-dimensional pile knit that foams well.
The mesh type drains water well and dries quickly, so you can always keep it clean.