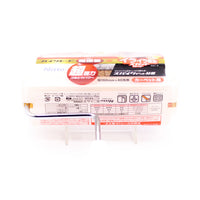 Korokoro High Grade S Nitoms
●ぐいぐいくい込みしっかり取れる
●ペットの毛、ホコリ、花粉、ダニに
●めくり口がわかる!スパッと切れる!
●カーペット用
●強接着
●ワンタッチ開閉自在!
●長い毛が巻きついてもすっきりめくれます。
●オレンジラインにはみんなに見やすいユニバーサルカラーを採用しました。
●You can take it firmly by digging in
● Pet hair, dust, pollen, mites
- You can see the opening! It cuts quickly!
●For carpet
● Strong adhesion
● One-touch opening and closing freely!
●Even if long hair is wrapped around, it can be turned up neatly.
●The orange line uses a universal color that is easy for everyone to see.