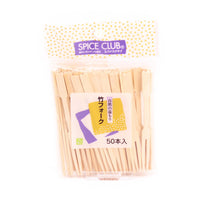 Size: about 9 x 0.2 x 0.2 cm (per piece)
Materials/Materials: Bamboo

Storage Precautions: Bamboo is susceptible to mold.
Since it is likely to occur
low humidity
please keep

Conveys the warmth of nature
gentle kitchen tools
With a focus on natural materials such as bamboo and wood,
A rustic texture that makes you feel relieved
It is a dessert fork for special sweets.
simple and basic
the dessert fork
Easy to use and useful.