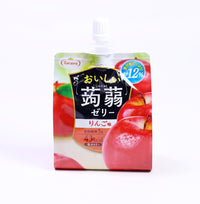 Soft Jelly Drink Apple 150G Tarami
It has a rich flavor with plenty of apple juice.
You can enjoy the sweet and sour taste and fresh scent of apples by adding apple juice to the smooth konjac jelly.
Contains 5g of dietary fiber and has a low calorie of 48kcal. It is a tarami konjac jelly that has both deliciousness and gentleness to the body.
りんごの果汁感たっぷり、濃厚な味わいに仕上げました。
のど越しの良いプルプル蒟蒻ゼリーにりんご果汁を加え、りんごの甘酸っぱさとフレッシュな香りが楽しめます。
食物繊維5g入りで、低カロリーの48kcal。おいしさとカラダへの優しさを兼ね備えた、たらみの蒟蒻ゼリーです。