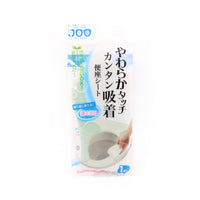 Tender Feel Toilet Seat Sheet
●材質ポリエステル100%、発泡ウレタン100%、ポリウレタン100%
●サイズ(約)全長375mm
●内容量1組(左右1枚ずつ)
●注意事項暖房便座に使用する場合は、電源を切って使用して下さい。置くだけで簡単に吸着し、簡単にはがせる便座シートです。柔らかい肌触りでとても心地良い!便座形状フリータイプなので、U型、O型、洗浄暖房、ポータブル便器にも使用できます。節電対策にもなります。
●Materials: 100% polyester, 100% urethane foam, 100% polyurethane
-Size (approx.) Total length 375mm
- Contents 1 set (1 each for left and right)
●Precautions When using a heated toilet seat, turn off the power before using. It is a toilet seat sheet that can be easily adsorbed and easily removed just by placing it. Soft to the touch and very comfortable! The toilet seat shape is free, so it can be used for U-shaped, O-shaped, wash heating, and portable toilets. It is also a power saving measure.