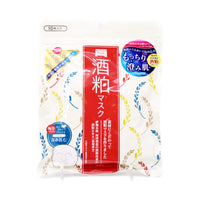 Wafood Made Face Mask Sake Lees 10Sheets Pdc
Wafood Made sake lees mask product details]
Highly moisturizing sheet mask containing sake lees extract and plenty of serum

[Sales name] Wafood Made SK Mask N

【how to use】
(1) Use on clean skin after washing your face.
(2) Fit the eyes, mouth and nostrils to your face and leave it on for 5-10 minutes before removing the mask.
(3) Use the palm of your hand to apply the remaining beauty essence to your skin, then apply skin care as usual.

【component】
Water, glycerin, DPG, sake lees extract, rice fermented liquid, hydrolyzed yeast extract, cucumber fruit extract, rice bran glycosphingolipid, yuzu seed extract, glycyrrhizic acid 2K, hydrolyzed hyaluronic acid, hydrolyzed collagen, BG, arginine, pentylene glycol , silver oxide, triethylhexanoin, hydrogenated lecithin, hydrogenated lysolecithin, polyglyceryl-10 laurate, polyglyceryl-10 myristate, diphenyl dimethicone, hydroxyethylcellulose, carbomer, citric acid, sodium citrate, potassium hydroxide, phytic acid, ethanol, phenoxyethanol, fragrance
【Notes】
・Be careful to check that you have no abnormalities on your skin before using.
・Discontinue use if it does not suit your skin, i.e. if you experience any abnormalities such as redness, swelling, itchiness, irritation, color loss (vitiligo etc.) or darkening when your skin is exposed to direct sunlight. , Consult a dermatologist, etc.
・Do not use on areas with abnormalities such as wounds or eczema.
・Take care not to get this in your eyes, and wash it off immediately if it gets in your eyes.
・Do not reuse a mask that has been used once for sanitary reasons.
・Close the zipper tightly after opening.
・After opening, even if the zipper is closed, liquid may leak if the zipper is down, so be sure to store it with the zipper up.
・Use within 30 days after opening
・Do not store in places with extremely high or low temperatures, in direct sunlight, or within reach of infants.