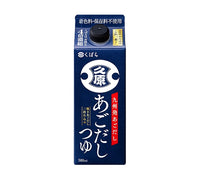 Agodashi Tsuyu 500Ml Kubara
All-purpose soup with rich flavor
Recommended for dishes that you want to bring out the richness!
A convenient all-purpose seasoning that can be used in a variety of dishes. It is a versatile soup stock that is proud of Kubara, which was created by blending the refined umami of the two-stage grilled?flying fish?dashi and the roundness of the in-house fired soy sauce.
てまひまかけて仕込んだ、万能つゆです。
一、火入れした久原醤油を数日間寝かせ、醤油の味にまるみを持たせました。
二、焼きあご(飛び魚)、かつお、昆布、椎茸のだしをひとつひとつ丁寧に抽出しました。
三、焼きあごだしは、旨みを最大限に引き出すてまひまかけた二段仕込みにこだわりました。
そうめんやうどんにはもちろん、様々なお料理にお使いいただける4倍濃縮タイプの万能調味料です。