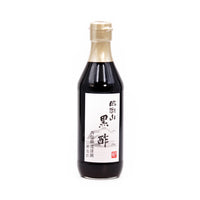 Rinkosan Kurosu 360Ml Uchibori
●米の甘みと旨味があり、香りにクセのない黒酢です。
●飲用の場合は5倍に希釈してください。
●酸味がやわらかく、飲みやすい黒酢です。
●米由来の甘味と食欲を刺激する豊かな香りが特長のお料理にも使いやすい黒酢です。
●This black vinegar has the sweetness and umami of rice, and has a mild aroma.
●When drinking, please dilute it 5 times.
●It is a black vinegar with a soft sourness that is easy to drink.
●A black vinegar that is easy to use for cooking with the sweetness of rice and the rich aroma that stimulates the appetite.